Zoom

Name:For food and medicine packing

Model:

Brief:
Details
Nitrogen is mainly used in food packaging, food preservation, medicine packaging, medicine exchange, medicine transportation.
Generally, the nitrogen produced should be treated by sterilization, dust removal and water removal to meet the special requirements of the industry. The requirement of nitrogen purity in food industry is not high. Many nitrogen with purity of more than 98% can meet the requirement. In pharmaceutical industry, nitrogen with purity of 99.9% is usually required. When the amount of nitrogen used in food industry is small, membrane separation is often used to produce nitrogen. When the amount is large, PSA is often used to produce
nitrogen
Technical data: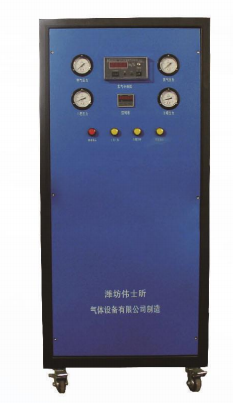 Nitrogen flow: 1-3000nm3 / h
Nitrogen purity :≥ 99. 99%
Dew point of nitrogen: ≤ - 45 ° C
Outlet pressure: 0.1-0.7mpa
Dust particle size of pure gas: ≤ 0.01um.